MONETIZE YOUR CATALOG AND DISCOVER NEW TALENT WITH SKIO MUSIC
Forget earning $0.007 per stream. Make fair earnings and discover new talent, all while staying in control of your content.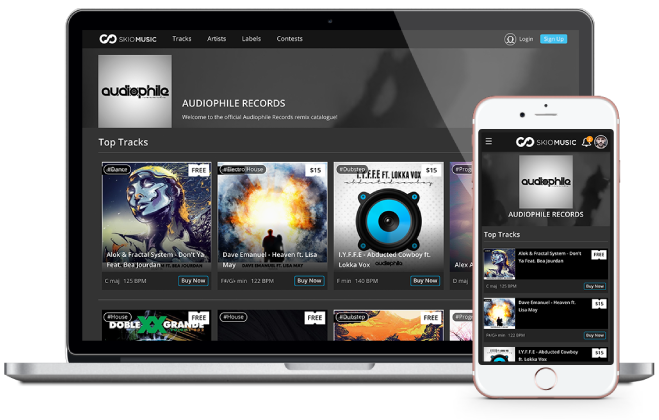 SKIO GIVES YOU THE TOOLS TO
Open a new revenue stream
Discover the next generation of talent
Build your reputation
Save time and money with automated legal
WHAT MAKES SKIO DIFFERENT
Find undiscovered artists
---
We collect data and analytics on remixers who engage with your content and deliver insights and trend reports so you can learn about your fans.
Monetize your music upfront
---
On SKIO, direct and secure payments happen before the remix is ever made. Artists pay for a stem pack and remix license while you set the terms for where they can share it.
Protect your copyright
---
You don't want to pay for takedowns or penalize your own fans, SKIO presents you with a way to utilize and learn from those who love your content.
WHAT PEOPLE ARE SAYING ABOUT SKIO
"SKIO has the ability to be the all-around platform that both artists and labels have been looking for a decade. Audiophile Records and our artists now have the ability to open a new revenue stream that was not previously available."

JAMES FREER
AUDIOPHILE RECORDS
"SKIO Music is paving the way for version 2.0 of the music business"

JAY SEAN
SONY UK
"It's nice to get real proof of your music reaching so many corners of the earth."

KONRAD OLDMONEY
VINTAGE CURRENCY
"SKIO is a super easy and friendly tool for artists to collaborate and build new fans around the globe."

ELI WENER
TALENT MANAGER AT THE HOAX ARTIST MANAGEMENT