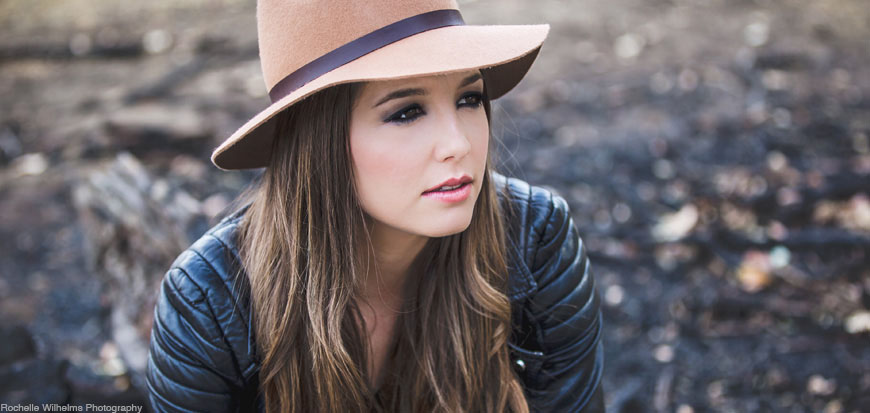 Lyndsey Elm on Evolving as an Artist through Collaboration
Lyndsey Elm is an independent singer/songwriter who wanted to use SKIO to reach a new audience while promoting her brand, growing her following on Spotify and engaging new fans with legal remix opportunities for the songs in her catalogue including her collab with producer Wes White titled: "Safe & Sound."
We recently asked Lyndsey to tell us about her experience on SKIO and her collab with Wes White.
Q: How important is collaboration for you as an artist?
I feel like it's become more and more important to me in the past few years. I have strengths, but I also have weaknesses, so collaboration is key. I'm only as strong as the team I build around me, so I love to find people that are skilled in a particular area and let them do what they do best.
When you have producers, songwriters, singers, and musicians all coming together to work on a project, that's when the magic happens. Sure you'll have your disagreements or differing creative preferences, but I'm a firm believer that multiple creative brains are better than just one.
That way you can give feedback, get feedback, and end up with ideas you would have never been able to come up with on your own. It's super important to find people you trust, that have your best interest at heart, and that are honest with you no matter what.
Q: Tell us about your experience collaborating with Wes White, an electronic music producer. What drew you to those genres and working with him?
Collaborating with Wes has been so much fun, he's so talented and amazing at what he does! It's fun to be able to put our strengths together and watch what happens. I had been interested in singing on an EDM-like track for a while, but I wanted it to be with the right person who would not only produce a high-quality song, but also allow me to have creative input.
A friend of mine who I went to middle school & high school with reached out to me on Facebook and told me that his roommate (Wes) was a producer and if I'd be interested in working on a song with him. I listened to some of Wes' previous work and was really impressed, so I agreed and the rest is history!
We have a great creative relationship that is symbiotic, we listen to each other and we both want to create the best music we can. Plus he's a genuine and down-to-earth human being, so that's the icing on the cake. Excited to see what's ahead for us in our own careers and for us together! :)
Q: Tell us about your solo songwriting process. Do you start with a vocal hook first?
I feel like my solo songwriting process happens a little different each time. Sometimes I'll get a melody stuck in my head or a lyric idea, so I'll go to the piano or grab my guitar and try to start building off of that first spark of creativity. For electronic music, I feel like it's vital to nail down the vocal hook or the "catch phrase" first, then go from there.
I heard Dave Grohl once say "don't bore us, get to the chorus", so I try to lock in a catchy chorus that people will love to sing and that will get stuck in their heads. Once you have that, you can write the verses and tell whatever story you want.
My biggest thing is working to stay in context with whatever theme you're writing about and making sure everything makes sense. Songwriting is such a puzzle and can be frustrating at times, but once you get going it's a lot of fun to put the pieces together!
Q: Has your songwriting evolved since you started? Do you find yourself writing about new themes? Or, do you maybe approach the same themes, but in new ways?
I feel like my songwriting is constantly evolving and my goal is to continue to find out how to talk about universal subjects (love, heartbreak, friendship, etc.) in a new and fresh way. It's that balance of being broad enough that a lot of people can relate to a song, but personal enough that it showcases either what you're currently going through or what someone around you is going through.
I like to tell stories of how I'm feeling but then also watch the relationships around me and write from a third person perspective. With electronic music, a new thing for me was writing to a track. It was something I had never done before, but I really enjoyed working on fitting words into a melody that was already in place.
It's nice to just be able to play the track over and over again and see what comes to you! I'm a very percussive writer, so I love playing with the beat and making the lyrics and melody a percussive element as well.
All in all, I'm working on pushing myself to write about new themes and topics that are current and what I feel like our generation needs to hear. I just want to make music that means something, that has a message of hope and stands for something bigger than me. Sometimes I feel like such a rookie at all of this, but I know I've been given a voice for a reason, so I'm going to use it to hopefully encourage others. I'm excited to keep growing and learning every day!
---
Thanks to Lyndsey for sharing her thoughts on collaboration, expanding into new genres, songwriting and growing as an artist!
Interested in remixing Lyndsey's songs? Check out her profile on SKIO, grab an Instant Remix license and do your thing!
Are you a producer? Check out our remix competitions, download high quality stems and work your magic for the chance to win some amazing prizes!
---