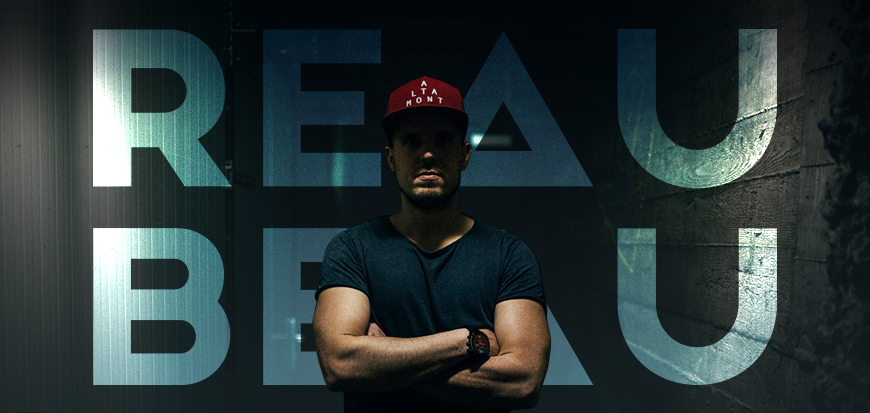 ReauBeau on Building a Successful Career as a DJ/Producer
Q: Describe your sound… what are your influences? What genres and artists inspire you the most? Why?
I listen to a lot of different music but I would say: Noisia, Flume, M83, Hans Zimmer / John Williams, Guns N' Roses, DJ Premier and Dr. Dre are big inspirations.
Q: Describe your songwriting process. Do you start with a beat? A bass line? A vocal hook?
It depends. If the vocal is really good then making a track around it is really easy. But I can also start with a basic idea and send it to a vocalist or write a topline together with them. But anything can trigger me really. Sometimes the smallest sample can get me in a creative mood.
Q: What technology tools do you prefer to use for producing tracks? Any favourite DAWs or plugins?
I work with Ableton mostly and use Massive, Serum, FabFilter and some UAD plugins. It's all about your workflow!
Q: You have come a long way from entering (and winning) one of our early remix contests all the way to getting scheduled to play at one of the world's biggest music festivals and having a busy production career. It's an amazing story. What has that progression looked like? What were the steps to achieve your dream?
I have been making music for about 9 years now. From making Hip Hop, Dubstep , Drum N' Bass and score music, and I have ended up combining every element in my ReauBeau project. The ride has been fun, frustrating, hard, emotional and you've got to keep your aim focused on the goal. AT ALL TIMES. It's basically this — work hard and prioritize. So when it's 30 degrees outside and everyone is on a patio drinking beer I am in the studio. I am really grateful for all of the opportunities that have come my way, and despite all the hard work I am enjoying it fully!
Q: Like a Star is a track that mixes a variety of genres. What inspired the creation of this song?
Me and Josh (Sauvage Noir) were in the studio and he was playing this vibey Hip Hop track. So we went in that direction. Then Josh started rapping and we recorded it as a joke. In the end, I actually loved the vocal, so we worked it out and ended up keeping it!
Q: What are the 3 biggest tips you have for producers to improve their remixes?
1: Check to ensure that the vocals have the same BPM as your instrumentals.
2: Be creative and have as much fun as possible. Record your own voice and make it a pad or record your kitchen equipment for clangs and other sounds you can use in your music.
3: Create a vibe. You've got to put emotion into your tracks and connect everything (vocals, instrumentals) with that vibe. Think of it as a theme.
Q: Tell us about your collaboration with Sauvage Noir. What was the experience like? Do you feel like doing collaborations pushes you to a new place musically?
My collaboration with Sauvage has been awesome so far. He's an awesome guy to work with — very musical and open to new ideas. This won't be the last track from us ; ) And yes, collaborations are the key to grow as a producer, so I highly recommend that you collaborate as often as possible so you can learn from others.
Q: What excites you about your remix contest on SKIO?
Everything! I know there are a lot of good producers in this community. And I feel blessed to have been given the opportunity to collaborate with people around the world who are taking my music in new directions!
Q: Tell us about your experience on SKIO Music. What opportunities have you found through our platform, and how important have they been for you?
SKIO has quality music to remix. I have found good Indie bands and great vocalists as well as some fantastic stems. I have remixed a bunch of tracks as fun little projects. I think that's how you should pick the tracks you want to remix.
---
Thanks to ReauBeau for sharing his thoughts on building a career as a successful producer and DJ!
Check out our remix competitions and submit your work for the chance to win some amazing prizes!
---