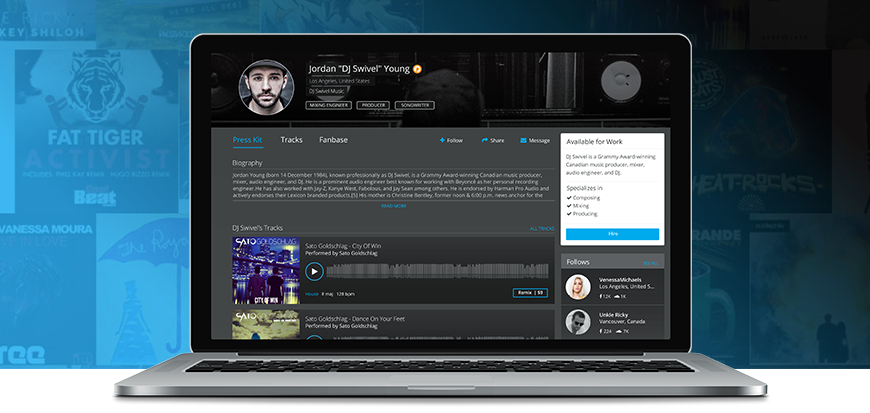 SKIO Artist Profiles Make it Easier To Get Noticed
At SKIO Music we are always hustling to improve our platform based on feedback from our talented and diverse community! That's why we freshened up Artist pages and are excited to present our 50,000 members with the ability to build an electronic press kit and showcase their skills to the world, all from a SKIO profile.
To all the creators trying to cut through the noise… We see you!
In order to continue to realize our vision of giving artists and musicians the freedom to create, our team seriously considers community feedback, feature requests and most importantly, criticism about our platform. For this reason, we made some design and feature changes to the way artist profiles work on SKIO. These changes can help you look more authentic, build your brand and gain some rep with other artists, producers, managers and record labels. Because we know, the industry respects that extra effort when looking for talent to sign or artists to collaborate with.
Check it out and let know us know what you think. And be honest, we're building SKIO Music for creators!
New Artist Pages on SKIO
Your Profile is Your "Press Kit"
When you want to get noticed by other artists or labels, Electronic Press Kits are invaluable. Now you can update your bio, sync social accounts to show where your fans are, and showcase your style and skills with your 3 top tracks.
Your "Tracks"
Import from SoundCloud or upload your original tracks directly to SKIO and have them remixed by other artists. Also, show off your style and sound with the remixes you've done in the past. We redesigned how tracks are displayed and what info is shown!
Your "Fan Base"
Use Fan Base analytics to seek out artists for collaborations, or labels and managers for networking. Sync your SoundCloud and Facebook artist pages with your SKIO profile and show where your fans are, or look up another member to see if they are a good fit.
Feel free to send over your thoughts or questions to artistrelations@skiomusic.com
We look forward to hearing your feedback for our next round of improvements!
Best vibes,
Omri Amouyal
---