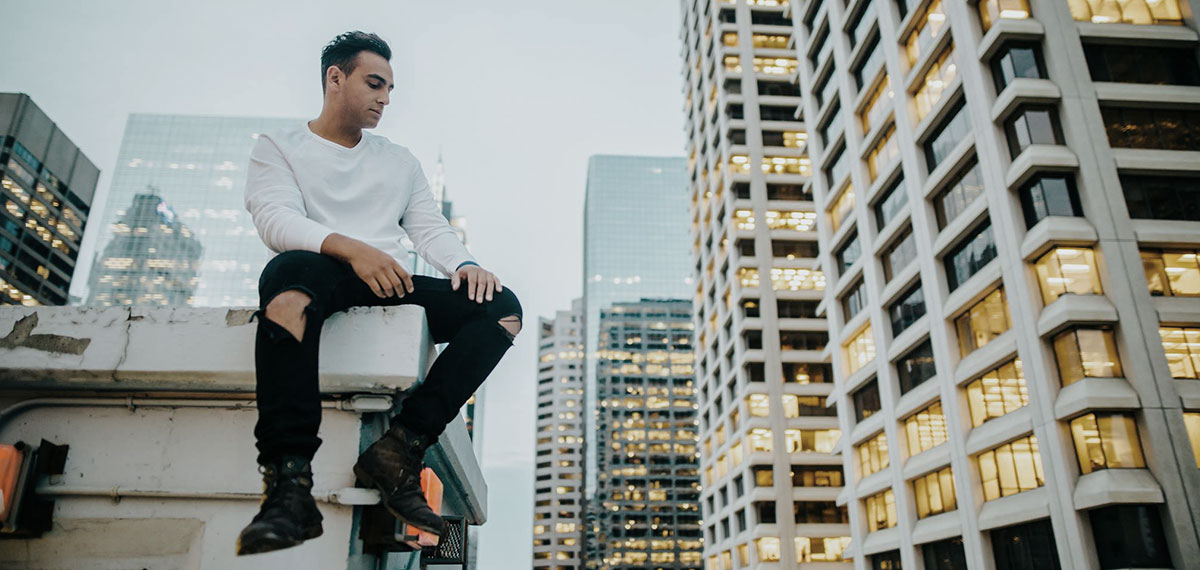 Learn How Ruben Young Kicked His Career Off in Less Than Two Years
Ruben Young threw himself into his music career with a creative challenge. The young investment banker challenged himself to perform for 50 days straight either online or in-person. This challenge not only brought him buzz in national publications and online blogs, but also won him the respect of a Top 40's radio station. Since the challenge, his career has gained momentum and isn't slowing down anytime soon.
Q: Can you tell us about the meaning behind "Take Her Down"?
A: I think a lot of people have experienced the wrong type of love. The addictive kind. The kind that you latch onto despite knowing that it's just bad for you. Love is supposed to bring out the best in you, but so many relationships are built on the opposite. Dependence, validation, lust. "Take Her Down" is about being lost in that process - trying to escape something that you know is wrong while trying to make sense of it all - because you've been stuck in it for so long.
"Creativity is not a gift. It's something you have to work extremely hard towards."
Q: Do you have any tips or tricks to help artists when they feel creatively blocked?
A: Keep grinding. Period. Creativity is not a gift. It's something you have to work extremely hard towards. Find your muses, find your inspirations and use them until you've written enough total shit that you begin to really like your own work; or until it's something that you're proud of. Collaborate, push yourself, but don't be too hard on yourself - it's a process.


Q: How can cross-genre artists in today's pop game stay true to their style and originality while appealing to as large a fan base as possible?
A: Today, anyone can be a singer or a producer at the snap of their fingers. The differentiating factors lie within those that stand the test of time: uncertainty, self-doubt, and the temptation to quit while you're ahead. Those that do, will find their identity as an artist and once they've achieved that, staying 'true or original' won't be an issue. Their art, their brand and their sound will be THEMSELVES. You have to be willing to fight as hard as you can to put your work in front of fans. Be true to yourself, work your ass off and it will all pan out.


Q: Can you tell us about your songwriting process?
A: Tedious. Fucking tedious. My gift and curse is that I easily get stuck thinking about the big picture of the song - the journey, the production etc. That's why I love co-writing because it forces me to stay in the moment and find that perfect lyric and explore the melodic options. My upcoming EP is very simple lyrically - it's not nearly as deep as I want to go but I'm very proud of the melodies, hooks, and production.
The EP was very collaborative. It took 40+ songs worth of writing to get to. It has five different producers and I actually co-produced almost every song. I'm very hands on and often get lost in the vision of the song. But I love writing, it's becoming my favorite part of the job.
"You have to be willing to fight as hard as you can to put your work in front of fans"
Q: What do you think the biggest challenges are for independent artists today?
A: The short term game is a trap. I call it the instagram 'like' disease. My generation, and even more so for those younger, are driven by short-term validation and independent artists can easily fall into the same sandpit pursuit.
We want things to blow up right away - to go from hometown to national tour in 6 months; but the silent reality out there is that the artists who are currently blowing up, such as Jon Bellion, Russ, or Anderson PAAK hustled. For a very long time. Writing (for themselves and other artists), non-stop creating, releasing, marketing and performing.
I'm sure they saw a ton of red-lights along the way, but they kept at it when most would have quit. If there is anything I have learned from my mentors, both in and outside of the music industry, your eyes have to be set on the long game. That's hard to find these days.


Q: The winner of this remix contest will have the opportunity to do an original song with you. What skills or qualities do you normally look for in a collaborator?
A: I can't wait for that! Man, there are no rules. Tall, small, country, hip-hop. Some of my favorite writes have been completely random. All I can ask for is that they come inspired, open and dedicated to the best interest of the song.


Q: How are you feeling about all of the blog love you're receiving and what advice would you give to rising artists who are trying to promote themselves?
A: It has been amazing, inspiring and super humbling. I'm a very reluctant, one-step at a time kind of guy, so I try to take the little wins with a grain of salt and stay focused on what's ahead. BUT I am very proud to see a project that great people worked very hard on start to get out there. I have a very, very long way to go, but the past few months have been a great step forward, so I am thankful for it all - including this remix contest through SKIO!


---

Sometimes the hardest part of creating is realizing that creativity is a grind. Exercise your creativity, push through the uncomfortable moments and don't let the momentum slow.

Like what you've read? Check out more artist interviews:
---