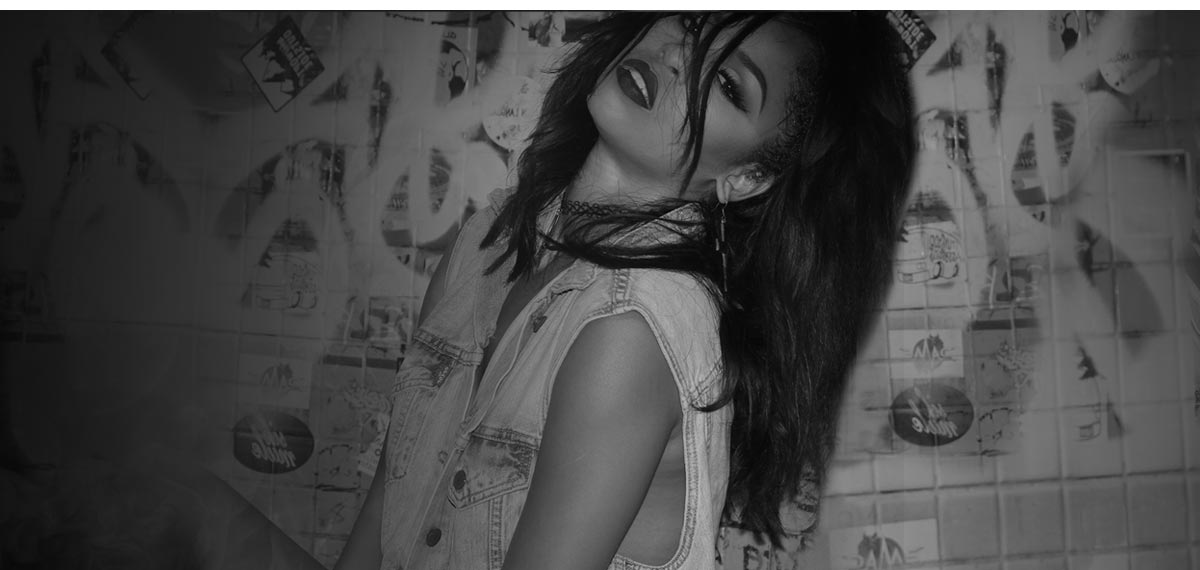 SoBE Lash Talks Songwriting, Tips and Getting Weird
Grimy, edgy and fun, SoBE LaSH first caught our eye at SXSW in 2015. Now, her EP The Pretty Reckless has us reminiscing of running wild and free. Its dance-inducing tracks combined with her sultry vocals and feisty YOLO-inspired lyrics are the perfect recipe for her popular urban punk EP. We're stoked to have this rad artist host a SKIO Remix Contest for her title track, "The Pretty Reckless" and thought this would be the perfect opportunity for you to get to know her better.From getting weird and kicking rules to the curb to describing the challenges facing independent artists, as usual, SoBe Lash didn't disappoint.

Q. Tell us about The Pretty Reckless ep. what inspired its creation? What is the main theme behind it?
A. The Pretty Reckless EP is all about living in the moment. It's a little cliche but every song touches on that in some way – being out until the sun comes up, doing things that you may regret the next day but really living, and experiencing every high along with the lows. It extends beyond just the party stuff, as well.
"It's about pouring all of your energy into building the kind of life that you want, regardless of what people say you SHOULD do."
Everyone thinks that they know what's best for you – "find a reliable profession", "get a nine to five", "be responsible". Most people never have the courage to break away and do what they really want to do, instead, they stick with the safe, "responsible" choices. This is about rejecting that.
Q. What excites you about your remix contest on SKIO?
A. I've been so surprised by the number of remixes and the level of creativity so far. I'm honestly just excited to see where it goes with the contest in place. SKIO is a really cool platform, we had been talking about remixes for the new songs for a while, but with everything else going on, we never had the time to take meetings or move in that direction with the right producers. This platform has been amazing and now, with the contest and the timing of the re-release, it's perfect.
Q. Who inspires you?
A. I'm inspired by people like Marilyn Manson, Nirvana, Tyler the Creator and Biggie but I also love the Spice Girls, Pink and Beyonce. They all represent some form of pop music but done differently and on their own terms. Overall, it's just pop music with no rules.
Q. Can you describe your sound?
A. We call the sound and style, "urban punk music". Not because we think it sounds like Sex Pistols or Green Day but because the approach to creating it is similar. I don't believe in rules or what the "pretty black girl" is supposed to do musically.
I don't mind combining rock/punk style guitars with hip-hop tracks, trap beats, house or whatever. Some songs have big guitars and vocals and some songs are just synth bells and no guitars or any live instrumentation at all.
"We aren't formally trained musicians, we just do what's in our heads and what makes sense in the moment and figure out how to sell it later."
Q. What does your songwriting process look like?
A. It's different every time. Sometimes I get the words first, a phrase or something that I think would be a good idea to build around. Sometimes my producing partner comes up with something. It might be just a track idea or music with a vocal melody and filler words. There is no real process. I just have to be feeling it.
Q. What are your thoughts on how the internet is changing the music industry both now and in the future?
A. It has made the world a whole lot smaller.
I've had people in Germany write me to tell me how they heard my song at a local carnival and someone in Australia who told me that hearing my music inspires her to work harder on her own. The Internet has made it possible for unconventional artists to find a voice and following, all without someone telling them "no" because it doesn't fit with the formula.
Q. What are the biggest challenges facing successful independent artists today?
A. Cutting through the noise. It's not enough to be unique or super talented. The great thing is that you no longer need the big label or any label actually – you can do so much on your own. The tricky thing is that everyone knows it, so now you're competing with all of them.
Q. What advice would you have for aspiring songwriters and musicians?
A. Understand that you need to be proactive when it comes to your online presence, show promotion and every other aspect of your business as you are in the studio creating music. Putting out a song is not enough – you need to interact, engage and connect with people. Luckily the internet makes it really, really easy to do that.
Q. How do collaborations influence your creativity?
A. Collaboration is great because it's always cool to have a different perspective. I feel like it adds dimension. On just about any song of mine, you can point out the different styles or genre influences. That's because my producing partner, MSKO and I have so many different influences between us, it's insane. I mentioned people like Marilyn Manson and Biggie but I also like NWA and Systems of a Down songs and so much other stuff. He likes bands like Radiohead and NIN and a bunch of different little indie bands.
"Every time we go in with an idea for a song, whether it started with me or him, the end result is always something different and better than the original idea."
That's a dope thing, and it's because we're coming from such different places. I think collaborating with the right person definitely pushes you creatively.
COLLABORATE WITH SOBE LASH!
---