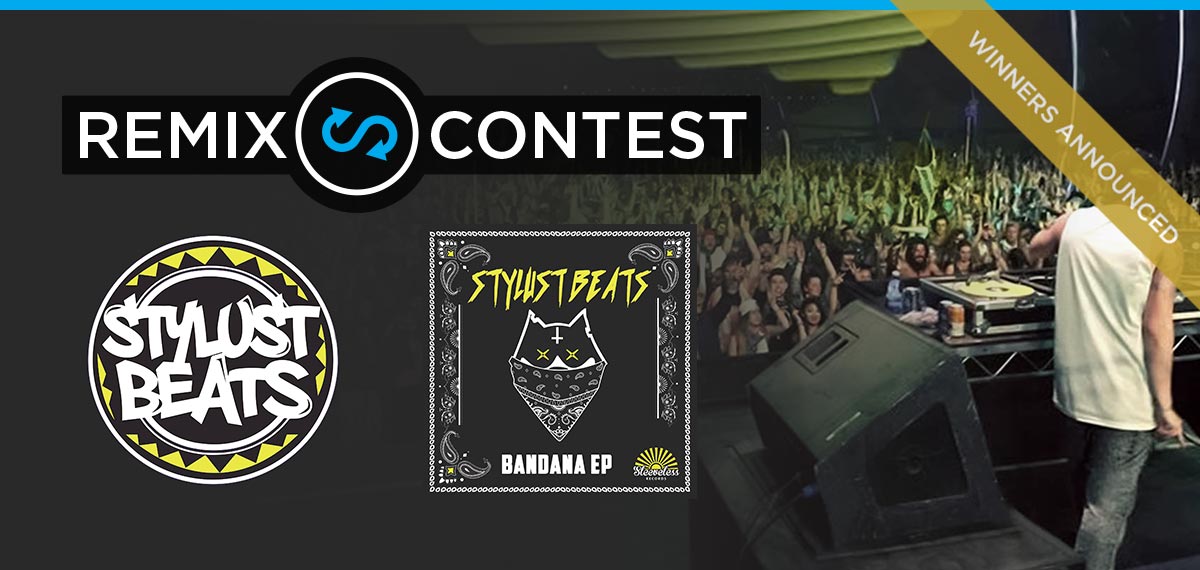 Remix Stylust Beats & Win!
We've teamed up with one of the world's leading bass music producers Stylust Beats and his collaborators DJANK YUCCA to bring you another great remix contest. This time it's for: "Painkiller" – a slick West Coast bass track filled with pounding subs, clanging percussion samples and dope vocals. Read on to learn more about the contest and prizes!
If Stylust Beats and Sleeveless Records like your remix then you could win some dope prizes including: a Skype meet and greet with Stylust Beats, official release on Sleeveless Records, autographed swag from Stylust Beats, a SubPac S2 ($300 value), SKIO swag and more!
Our friends at RENDRD Magazine have come on board to give the winner an Artist Development Package including: custom album or track art, bio writing and an exclusive interview in the magazine!
If you submit your remix early by Tues. Nov 8, 2016 at 4:59pm you'll get the chance to receive feedback on your remix from Stylust Beats himself during an exclusive Live Feedback Session!
Submissions start on Mon. Oct. 7 and go to Mon. Nov. 21 at 11:59pm Pacific Standard Time.
What are you waiting for? Download the stems today to enter the contest, and get started right away!
---
About Stylust Beats
Known for his sleeveless, whimsical synergy with the fans, Geoff "Stylust Beats" Reich has been creating his own counterculture since he was a teenager. A skate punk and hip-hop devotee, this groundbreaking DJ's talent for fusing rap hooks and dubstep bass with multiple music genres has earned him the rep as a creative renegade carving his own path.
With a style that captivates lovers of all music, the Canadian-bred San Francisco DJ has emerged as a frontrunner in the new wave of industry heavyweights. In a interview for MusicYouNeed.net, this stereophonic chameleon explains the method to his madness, "My goal is to make timeless bass music: I try to make every track an epic melodic adventure through many different genres."
Blending classic turntablism with cutting edge tech prowess, Geoff has been touring as DJ Stylust Beats since 2008. Stretching all over the United States, Canada and Costa Rica, he has headlined major festivals, including Shambala, Envision and Burning Man, to name a few.
Inspired by his older brother who was in a band, Stylust Beats began testing his musical mettle on the wheels of steel in 1998. His imaginative spins of counterintuitive genres were new territory back then, and he quickly gained fame as a fearless, party-rocking DJ reinventing the game. Within a couple of years, he took on the daunting challenge of producing and managing his own recording house, All-In Studios, which he ran successfully for ten years. This was the laboratory within which Stylust evolved from bass DJ to mad scientist, cutting his own brand of sonic mixology and perfecting his craft as prime-time producer.
But don't be fooled by his rebel-without-a-care persona: with his own label, Sleeveless Records, Stylust is a consummate pro with a passion for his art form and global respect within his reach. Best described in his own words, just "Rip Yer F#*ckin' Sleeves Off!"
---
Ready to get going? Download the stems today and start working your magic!
---
Connect With Stylust Beats
Download Album On Beatport
Follow On Spotify
Follow On SoundCloud
Like on Facebook
Subscribe on YouTube
---
About Our Remix Contests
SKIO hosts remix contests and competitions with partners in a wide variety of genres including: EDM, house, deep house, pop, hip hop, dubstep and more. With a growing array of unique contest offerings coming down the pipeline stay tuned to our blog for more info!
---