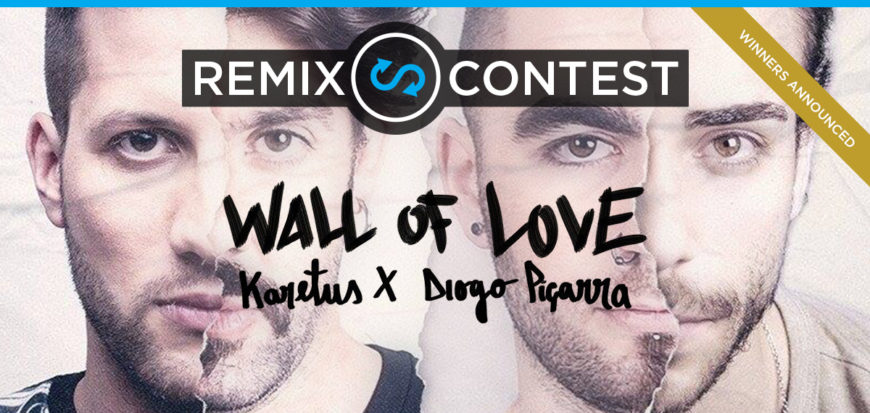 Karetus "Wall of Love" ft. Diogo Piçarra Remix Contest!
With 100+ submissions this contest produced some of the strongest remixes ever. We really enjoyed listening to all of your entries – the quality standard has gone up another level! To hear the winning remixes read on…
We are excited to announce the winners for the "Wall of Love" remix contest.
First place goes to 2win Beam from Portugal. Parabéns!
As the grand prize winner you'll get the following:
An official release on Karetus remix EP (Universal Music Portugal)
Skype feedback session with Karetus
Support on Karetus' social media
Call with SKIO A&R's
Featured artist for a week on SKIO
Track premiere on SKIO Access (our blog)
The winning remix by 2win Beam is an atmospheric trap track with a massive drop that comes from nowhere. Huge synths and monstrous tom fills plus a killer "bom-bitty-bom" vocal sample were some of the unique elements that clinched the win for this unique trap remix. With high quality production values, a variety of dynamics and lots of interesting instrumentation this track was a pleasure to listen to around the office!
The 2nd place remix by U&I from Sweden is a mellow and subdued remix with off beat synths, colourful chording, trap-like hi hats and plenty of space in the mix. Overall, this is a great remix, U & I. Grattis! As the 2nd place finisher you have won the following:
An official release on Karetus remix EP (Universal Music Portugal)
Skype call with SKIO A&Rs
Featured Artist of the week on SKIO
Honorable mention on SKIO Blog
The third place remix by Breaktrapper hits you right off the top with merengue rhythms and congas. With an early build and drop and a dirty, distorted, siren-like keyboard sample leading the way this remix really caught the judges' and artist's attention!
After the urgency of the first part the track goes into a downtempo break but quickly returns into the heat of the action. Additional builds and drops take the listener on a roller coaster ride of high tempo rhythm and downtempo subtlety. Well done Breaktrapper on a killer remix!
We are back at it again with another remix contest so all you talented producers in the SKIO community can continue flexing your remix skills. This time, we are stoked to announce that we have partnered with the extremely talented Portuguese production trio Karetus to offer up their uplifting track released through Universal Music Portugal, "Wall of Love" featuring talented vocalist Diogo Piçarra.
Karetus premiere their single with a huge message! "Wall of Love" aired 2 weeks ago on radio stations and all digital platforms and is an ambitiously impelling project started by Karetus in 2014. Taking a run down wall on one of the poorer streets in their home town of Lisbon, Karetus launched a grass-roots initiative to beautify the space, inviting artists & creatives in the local community to paint, draw, & scribble on the "wall of love" (the results of which can be seen in the music video above). The video, directed by Ricardo Reis, launched May 30th on the group's YouTube and preaches a message of love, unity and equality throughout the whole video – an homage to Lisbon, Portugal and the World. With such an inspirational story, we just could not say no when they requested to launch a remix contest with us!
First and second place winners of this contest will have their top quality tracks officially released on Karetus' remix EP through Universal Music Portugal as well as a video call with SKIO A&Rs to discuss promotion opportunities on the SKIO platform such as Featured Artist of the Week. The first place winner of the contest will have a video call with Karetus themselves in order to receive feedback on their remix and one-on-one coaching to foster their talent. Check out the full details and download the stems by clicking the big blue button below & make sure you upload your remix by the July 25th deadline!
Karetus
Founded in 2010, Karetus are a trio composed of producers Carlos Silva and André Reis and MC Paulo Silva. After the release of their break out nu-disco hit, "Future is Now", Karetus found a swell of success and began working on official remixes with established artists in the EDM community such as Nicky Romero & NERVO, Krewella, & Skism just to name a few as well as receiving support from the likes of Madeon, Zeds Dead, Excision, Steve Aoki. In just 5 short years, Karetus have made waves in the Portuguese dance community and are setting their sights on the international scene. Follow them on their socials'
Diogo Piçarra
Singer, songwriter, producer, & artist, Diogo Piçarra is a man of many talents whose modest musical beginnings found himself in a band at the age of 17. Instantly hooked by the rush of performing, Diogo has been steadily improving his vocal and songwriting abilities for the past decade, which undoubtedly shines through on Karetus' new track. With plans of releasing a full length EP as well as having won Portuguese Pop Idol 2012, this is one singer that will be making some serious moves in the near future! Follow Diogo on his social media below.
So what are you waiting for? Enter the contest by downloading the stems below!
---