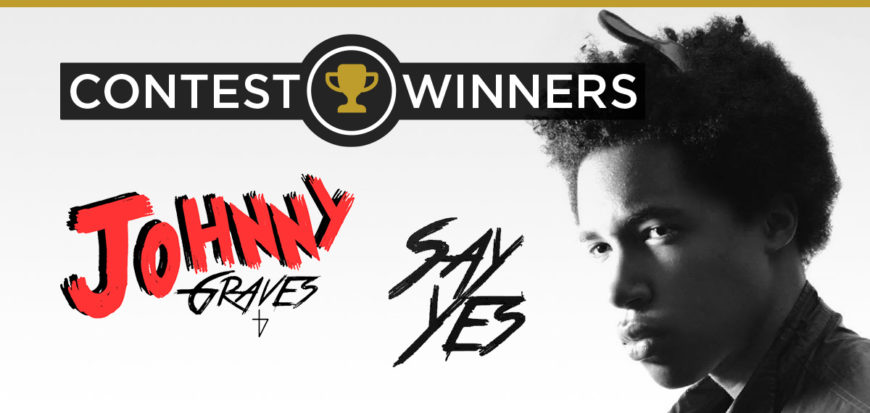 Johnny Gr4ves Remix Contest Winners!
After receiving over 100 amazing remixes for "Say Yes", the judges had to be on their game with this one. Big ups to our contest winners! We'll get to them in a second.
But first, here is what producer Konrad OldMoney had to say about his experience with the remix contest:
"It was really fun to get to hear other producers reimagine something I came up with. There were lots of great submissions and everyone had an awesome attitude and appreciation for the music. It's nice to get real proof of your music reaching so many corners of the earth. By hearing what people chose to leave untouched I learned a lot about the strongest elements in the song. In terms of other projects I would definitely would work with SKIO on another remix contest in the future!"
We are stoked to announce that the grand prize winner for the "Say Yes" remix contest is XFER from Spain! Muy bueno XFER – you're gonna get hooked up with a whole bunch of wicked prizes including: an official remix release on Vintage Currency Records, SoundCloud promotion (550K+) through our partners network, a Skype meet and greet with Johnny and his label, and you will also be included in the SKIO Talent Spotlight and a featured artist for a full week on SKIO.
1ST Place
The winning remix by XFER is slightly downtempo and contains a smooth blend of punchy bass and snappy keyboard melodies. We were impressed with the winner's ability to craft irresistible keyboard hooks that bring the listener into the heart of the mix.
Congratulations to the second place winner – Unkle Ricky of Canada! As the runner-up you will receive an official remix release on Vintage Currency Records, an honourable mention on the SKIO blog, a 30 min call with SKIO A&R's as well as being a featured artist for a week on SKIO. Well done!
2ND Place
Unkle Ricky's strong remix featuring deep bass, tight beats and a slightly higher tempo reminiscent of R&B legends!
Bonus Winner
An honorable mention goes to bonus winner Neon Meow from Toulouse, France who put together an innovative remix featuring fluid tempo changes and impressive keyboard licks. His remix will be officially released on Vintage Currency records alongside the first and second prize winners. Congratulations to Neon Meow for coming up with a strong remix and for being one of the talented artists discovered through this contest!
For up-and-coming DJ's and producers such as Xfer, Unkle Ricky and Neon Meow remix contests are a powerful way to build career momentum with the following opportunities: an official release of bomb remixes on a record label, building relationships and networking over time with labels, plus valuable mentorship and learning opportunities via the live feedback sessions.
These opportunities are a key part of building a successful career as an artist, and those who take advantage stand to gain a lot both personally and professionally.
Special thanks to Johnny Gr4ves and producer Konrad OldMoney for putting up such a great track for the contest ("Say Yes"), and also to all contest participants for producing fantastic remixes.
For more great songs to play with be sure to watch your email for our next remix contest announcement!
Best vibes,
---