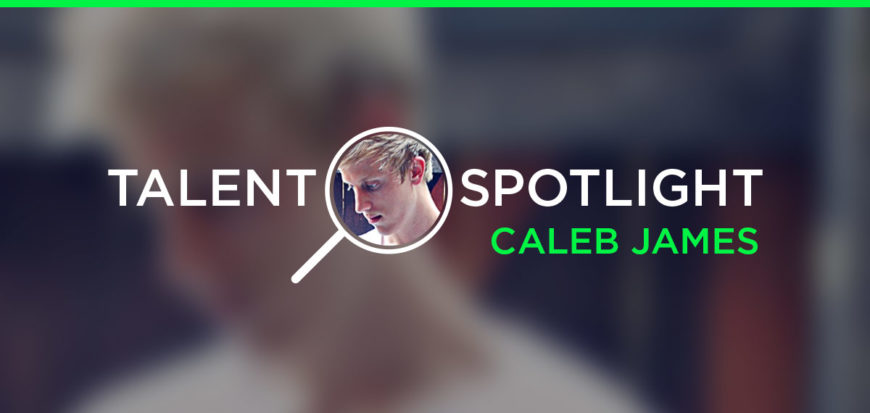 Featuring a Premier of 'Chairs (Caleb James Remix) – Danelle'
Caleb Hoskins is a multi-talented music professional creating diverse music under numerous alias, including Caleb James, thru and others. Caleb leveraged a degree in audio production and an initial career in sound design to explore other musical pursuits. He discovered a passion for creating his own sound and has been making big strides as an up and coming electronic producer.
We're excited to bring attention to one of his latest works, a remix under his thru alias of Chairs by Danelle. The original is a minimalist downtempo trap track that Caleb injects energy into by adding his own electro and future bass elements. This new take on the original sound is a great compliment to Danelle's mesmerizing vocals. Check out the track below if you know what's good for you!
Interview With Caleb James
We had the privilege of learning about how Caleb's eclectic appetite for music influences the projects he is working on and explored some of the most significant challenges he sees in the music industry today. Check out the interview below, and connect with him directly on SKIO if you want to find out more!
---
Q. How would you describe your sound?
A. Many influences are incorporated in my productions. As a DJ I dig and source sounds from all over the world. I've been doing this ever since I was in high school and the internet and digital music collided. I'm constantly on the search for genre breaking music and tunes that fuse new ideas to see what's possible! This drive to listen to everything I find intriguing and informs the multiple aliases I produce under as well as ghost productions.
---
Q. If your music had a spirit animal what would it be?
A. Do mythological creatures count? If so, hands down a griffin. They're powerful, yet elegant. Stunning yet beautiful. I love that dynamic. I especially love conflicting dynamics in my music as well!
---
Q. Who are your influences right now?
A. To be honest, too many to count! This is best answered by collectives. For example I love just about everything coming from the Soulection movement or boutique labels like FutureClassic – it's all about the good vibes and good music. On the flip-side in club music, I love almost everything from the Anjunabeats/deep labels. They're all about that euphoric, thought provoking and beautiful music fused with earth shattering club grooves. When this music is experienced with a bunch of people in a club, it's so unreal!
---
Q. Can you tell us about some of your recent work?
A. One of my favourite projects recently was with Danelle, a new LA based singer. I wanted to juxtapose her elegant song with huge sounds – again that dynamic I love! Listen to the track above and check out her Facebook page.
---
Q. How have you built your personal brand?
A. Right now I'm focusing on making my music as great as I possibly can. As I've done this, things like the general vibe and the visual side start to surface. My projects are in their infancy right now, so I've stuck with the basics like designing simple logos, building facebook and soundcloud pages, and loads of networking and demo submissions. I go out to a lot of shows and talk to people that are performing. Then I try and hang out with them to learn what works for them. Lots in the works this year!
---
Q. What's coming next for you in your musical career?
A. At the moment I'm finishing up an EP and a couple collaborations with Diana Boss. I'm also working on several remixes as well for my sets.
---
Q. What are the biggest challenges facing creators today?
A. There's many! I'd say a lot of problems are rooted in a general cultural issue. From birth most of us are taught to limit our creativity because we're told "you can't make a living making music!" or something like that. Much could be said here. It's important to break down why you want to make music (or any art) and then research roadblocks to your creative journey. For me, there's lots of walls to climb over or break through. Here's just a few: realizing the elusive value of music (due in part to the current shift to streaming), the fact that services such as Spotify won't wait to compensate artists/ musicians, songwriters, and distributors properly before launching their service, or learning how to navigate working with people over the internet when you haven't met in real life!
---
Q. Can you share a piece of advice or tip for our rising tier?
A. Focus all your efforts on making good songs. Be patient. Study what it is you like the most. Don't share unless you're sure it's your best work. Remember the best music comes from collaboration, so reach out to people and convince them to create with you! Jumping the gun and sharing an incomplete idea can be a surefire way to turn someone off your music.
---
Q. Why are tools like SKIO Music's platform and community important for rising talent?
A. Finding SKIO Music has been a dream come true for me. I've been able to make some new incredible friends, collaborate with film composers, and artists that are doing a wide variety of projects! I can't wait to collaborate more and become a bigger part of the community. SKIO Music is great for artists like myself because of the opportunities it creates for web collaborators!
---
---