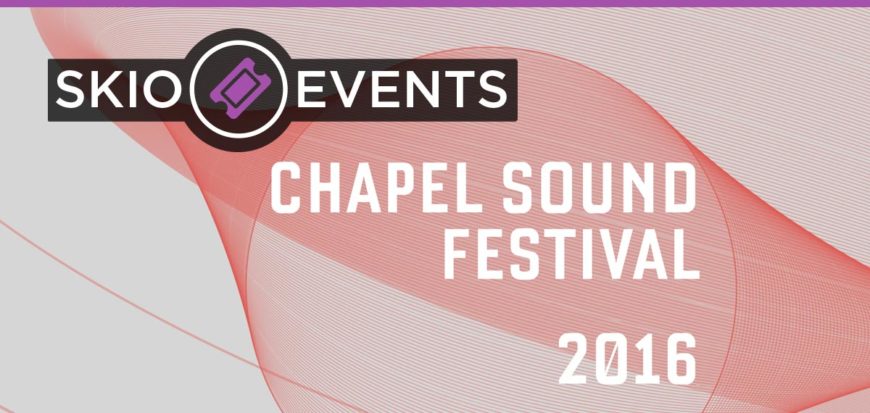 SKIO Music Official Host Parents of Inaugural Chapel Sound Festival
SKIO Music announced today it is an official hosting partner in the first annual Chapel Sound Festival taking place in Vancouver, May 20-22nd, 2016.
Chapel Sound Festival is two full days and nights celebrating art and ideas with a 100%-local lineup of DJs, producers, visual artists and creative technologists.
"We are more than excited to be a part of this underground movement that is uplifting Vancouver's talented music and arts scene," said SKIO's co-founder and CMO, Darcy Hughes. "Chapel Sound is renowned for its insanely-talented creative collective, openness, and inclusion. All things we strive to enable with SKIO Music."
Daytime events will be at Gold Saucer Studio on Saturday the 21st and SKIO Music on Sunday the 22nd. Audio-visual performances will be held at night on Friday the 20th and Saturday the 21st at Red Gate Arts Society.
Daytime programming on the 21st and 22nd will include workshops, demonstrations, lectures and panel discussions, all relating to the themes of music and technology and their nuanced relationship. Two panel discussions are scheduled for Sunday the 22nd: one on the subject of "Women in Electronic Music & Creative Technology", and another on "Balancing Exposure & Artist Integrity", featuring SKIO's co-founder and resident curator, Omri Amouyal.
Confirmed artists taking to the stage and workshops include Milo, Jade Statues, Potatohead People, Mu, Secret Homie, Eli Muro, Imur, Nina Mendoza, Christa Belle, Jolin Ras, Shaunic, Nancy Dru, x/o, Heroshe, Kline, Stefana Fratila, Tada Hozumi, Ryan Narita, and even more visual artists to be added closer to the date.
Check out the Chapel Sound Compilation album, and get excited!
Event Details: Chapel Sound Festival 2016
Date: Friday May 20th – Sunday May 22nd
Venues: Red Gate Arts Society, SKIO Music, Gold Saucer Studio
Festival Passes: Available via the PocketSocial App. Download and simply type in Chapel Sound Festival! Passes also available for purchase at locations around Vancouver – visit www.chapelsound.org/tickets for full details
| | |
| --- | --- |
| Pricing: $30 for Early Bird passes purchased via PocketSocial | $40 for passes purchased in stores |
About Chapel Sound
Chapel Sound formed in 2012 when a group of artists began broadcasting a weekly Boiler Room-style live stream featuring producers and DJs. Today, Chapel's members span the country from Vancouver to Montreal, with a mandate to push creative expression forward without boundaries or prejudice. The collective has hosted electronic music shows at venues like Fortune Sound Club, MIA and the Biltmore, as well as DIY events in underground venues including The Loft, Vancouver Art and Leisure and Red Gate Arts Society.
---