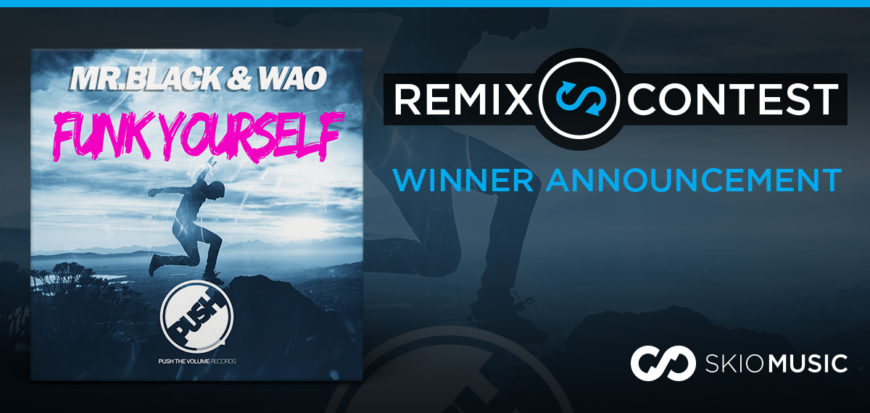 Mr. Black & WAO Remix Contest Winners!
After Mr. Black and WAO connected on SKIO to collaborate, we were thrilled when they wanted to kick things up a notch and give the track back to our community for a remix contest of their own with "Funk Yourself" in partnership with Israeli record label Push The Volume Records.
We received over 100+ re-imaginings' of the uptempo track and once again were blown away by the talent and ingenuity that is so obviously apparent in the global SKIO community. After reviewing all the submissions, Mr. Black, WAO and the guys at We Rave You have decided on the winner and runner up who will both be featured on one of the world's leading EDM blogs, We Rave You, along with promotion by Mr. Black, WAO and Push The Volume Records.
First Place – KRIEGER
Congratulations to Brazilian producer KRIEGER for coming in first place with his funky remix of Mr. Black & WAO's "Funk Yourself" that is reminiscent of fellow Brazilian producer Alok. Chopping up the pitched up vocals from the original track, Krieger layers a simple but effective clap and hi-hat percussion section to drive a remix that feels like it's perfect for late-night future bass aficionados. Check out Krieger's winning Brazilian deep house flip below.
Second Place – StormBeats
Our runner up, StormBeats, comes in hot from Germany with a decidedly chill rendition of our funky original. With a sweet, piano-driven melody throughout and a drop that seems to be inspired by the early workings of legendary producer Flume, this trappy rework could fit perfectly into a set for a summer boat party or just driving with the top down on the highway to the next great festival. Check out the track below.
Honourable Mentions
With over 100 killer remixes submitted to the contest, we wanted to show some love to a few more talented producers that deserve an honourable mention. Take a second and listen to some remixes that have been playing in the SKIO Music HQ all week.
On behalf of Mr. Black , WAO, Push The Volume Records, We Rave You, and all of us at SKIO, we would like to thank all those that participated in the contest. Keep an eye out for a new remix contest in the near future!
Best vibes
– The SKIO Music team
---