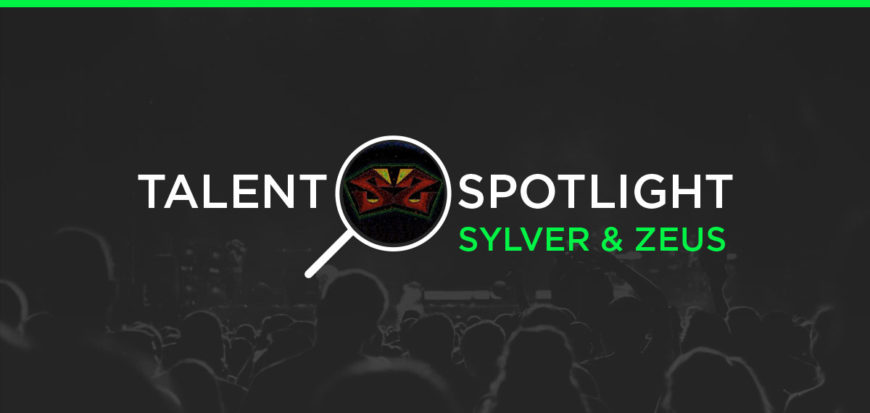 Talent Spotlight: Sylver & Zeus Talk About Branding
In an electronic space that is increasingly crowded and has been criticized for following generic popular trends, Sylver and Zeus contribute a fresh sound that is uniquely their own. Sean (Sylver) and Natalie (Zeus) are a chilled-out electro duo that exemplify the rapidly rising talent bubbling up from the SKIO community.
This month we've chosen to showcase these creators because they've developed their own specific sound, drawing on exotic influences from R&B, hip-hop, EDM and alternative genres alike to build a moody, experimental electro vibe.
Their latest release 'Surfside Hymn' captures this eclectic collection of influences and finds interesting ways to combine tropical house and future bass in a down-tempo, chilled-out tune. Zeus' melodic vocals carry you away to place where the summer never ends and people relax at the beach like it's their job.
Give their track a listen below, or better yet, grab some speakers and head down to the beach before you dive into this sonic daydream.
---
Interview With Sylver & Zeus
We recently had the chance to connect with the duo to learn how they've been able to rise above the noise in a crowded EDM space. We got their advice in relentlessly pursuing a career of music, and discovered the ways they're giving back to the creative community. Check out the interview below, and connect with them directly if you want to find out more!
---
Q. How would you describe your sound?
A. We like to refer to our sound as "platypus music". We mix genres freely and pull ideas from EDM, hip-hop/R&B, alternative, and more. You can usually expect a good dance beat, lounge vocals, and some free-form experimentation in our music.
---
Q. If your music had a spirit animal what would it be?
A. A platypus, obviously. Weird parts all mixed together to make something weirdly awesome. Swim on, little guy. Swim on.
---
Q. Who are your influences right now?
A. We have many different artists that influence us on a regular basis. Alicia Keys, Michael Buble, and groups like The Fugees and TLC influence vocals for Natalie (Zeus) pretty heavily. Others like Coldplay, Dave Matthews Band, and John Mayer are a regular go-to for both of us when needing lyrical inspiration or that extra little something special. Sean (Sylver) was raised with more rock 'n' roll, so he draws from bands like U2, Queen, Styx… and old techno/electronic beats. Add in a few bands like The Killers, and Bastille, and producers such as Jauz and Keys N Krates and you get a glimpse of the tip of the iceberg of music that inspires us.
---
Q. Can you tell us about some of your recent work? (and share a link to it)
A. Surfside Hymn (featured above) is the type of song you write when spring hits and you just want it to warm up enough to go relax at the beach. It is a chill future bass song that features Zeus on vocals.
---
Q. How have you built your personal brand?
A. Brand building is a part of everything we do – from the sounds we choose when producing, to the way we talk to new followers on twitter.
Our brand is built around who we are as everyday people. We don't try to be something we aren't. We love to be genuine and connect with people in a day when many do not feel comfortable with themselves unless they are living a filtered, emoticon filled, virtual life. We love to laugh and have fun. We love to feel alive and capable of living. We love to travel and have adventures. We spend a healthy amount of each daydreaming and scheming. The list goes on. Sylver & Zeus are just extensions of our personalities. We share what we like and we like what we share. For example, we've been training parkour together for some years now, so naturally, that pops up in our Instagram feed occasionally, as well as our two furry children at home. Some may hesitate to go this route with their marketing, but for us, it's a good time. Funny enough, it seems that just being ourselves is exactly what many people want. So here we are.
This has opened up a lot of opportunities for us to really find things we love and run with it. For example, we both really enjoy art (especially urban art) which has allowed us to reach out to visual artists that we are beginning to collaborate with.
Because we have spent a lot of time identifying what we wanted from S&Z and brainstorming how to get it, we find that we approach many situations with a very clear understanding of how we would handle it in a way that distinguishes us as something unique. On twitter – for another quick example – we have never asked anyone to listen to our music. Instead we ask them about their lives, what they are doing, what they love, etc. We are positive when talking with them (or doing any marketing/networking). By presenting ourselves this way we have found some of our biggest fans. In the end, if you don't know your brand, you don't know what you have to offer to your fan base. Your brand is all about what is different about you. What do you offer to the world that no one else offers?
---
Q. What's coming next for you in your musical career?
A. We have recently started getting requests from YouTube and large SoundCloud channels and will be spending the next part of this year working with them to gain a larger audience. We are entering a carefully planned six month marketing plan, and are really excited for our new music!
We have also started a network community called Platypus Music Group that we are currently building momentum for and watching grow. We are using it to share our business plan openly, to share the business and marketing principles we have used during the last ten years of owning our own businesses, and to provide resources to other up and coming producers. A repost community and forum will be up and running in the next couple weeks to support it, and we have seen a great response to this from some really talented producers. We plan to continue to develop this into a resource that can be used by producers to learn how to market their music and find support from other musicians.
---
Q. What are the biggest challenges facing creators today?
A. Through our experience and discussions with Platypus members we see several problems that stop producers at various levels of growth. The biggest problems seem to be:
How do I write, mix, and master music to sound professional – and how do I know when it gets there? How do I put together a marketing plan that allows me to network with industry professionals while building my brand, gaining followers, and converting those followers to fans? How do I know what I am doing wrong or what I need to do better?
Taking the time to answer these questions seems to be very difficult for producers – and many producers get intimidated and shy away from them. But if you can learn how to manipulate a low frequency oscillator, or how to mix a pluck and a supersaw so that they sound good together, you can learn to answer those questions!
---
Q. Can you share a piece of advice or tip for our rising tier?
A. Put your shoulder to the wheel and keep pushing, mate. Once you gain momentum, keep it going, even if it's intimidating or seems to be a bit much at first, I promise you can learn to handle it. Produce relentlessly 'til you can do it in your sleep. Then learn how to network and market and do that relentlessly.
---
Q. Why are tools like SKIO Music's platform and community important for rising talent?
A. While many platforms can be used for growth, SKIO offers features that fill a huge hole for producers who are putting in the work. Let me give a quick summary of why, and a quick but powerful exercise.
SKIO allows for the networking of producers with other talented producers who have been sorted out by SKIO's A&R (which saves a lot of work) AND with established industry professionals who are on SKIO specifically to find talented producers.
If you want to see the power of this in action, try this exercise for the next week: For the next week, get on SKIO daily and start listening to producers. You don't have to love every track – but listen for the strengths of each track Find ten you like from ten different producers and shoot them a message. Tell them you like the track, and what its strengths were that you heard If someone does this to you then respond Follow the producers you like and like their tracks. Start conversations and you will find that by adding value to just 10 producers a day, and continuing to offer value with every interaction, you will not only build great friendships – but the SKIO community will open up
This tactic has helped us to find some really great friends, get more remix requests, start collaborations with some great producers, etc. If you do this for a week I doubt you will want to stop because of how well the SKIO community responds and how easy it is to build strong networks on the SKIO platform.
---
---