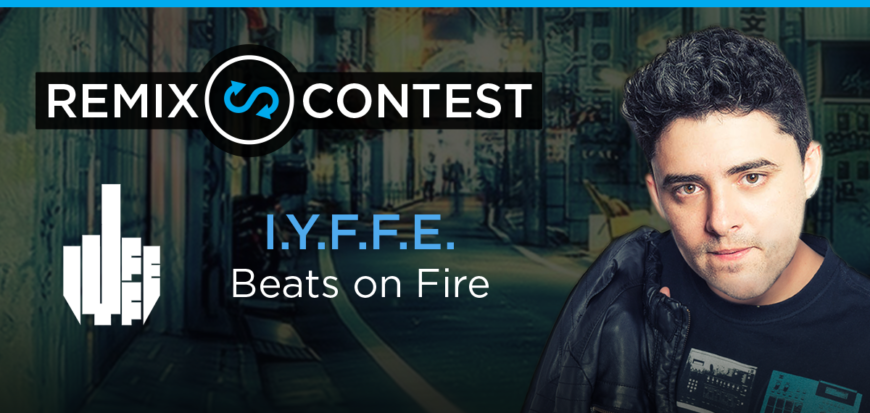 IYFFE Remix Contest Announcement
Attention dj's and producers, we've got a treat for you all so pay attention! We partnered up with a long-time friend of SKIO and super talented Bass music artist from Brazil, I.Y.F.F.E and his record label Uprise Music to host a remix contest for the monster track "Beats On Fire ft. Krime Fyter". We've also teamed up with the mad music scientists at PK Sound to support our contestants with fresh swag and more.
Known for his innovative style that combines powerful melodies with industrial and intelligent sounding basslines, the Brazilian bass wizard has offered up one of his hit records from 2015 to the SKIO community for remixing. Although Bass music is only now gaining popularity in Brazil, this native of Rio De Janeiro has been producing quality music in the genre for years, earning him support and recognition from the likes of Skrillex, Krewella, Bro Safari, Borgore, MAKJ, Dyro, Meaux Green, Xilent, Far Too Loud and others.
It's no surprise "Beats On Fire" climbed to the top of the charts after it's release on Uprise Music back in the November, as it blends trap infused elements with heavy bass melodies and hard-hitting treble synths. Although this track is packed with great sounds and textures, the most intriguing section for remixers might just be the wicked vocals from Krime Fyter.
Download the stems and get creative with your remix to show I.Y.F.F.E what you've got! If he likes your style, you could win an official release on Uprise Music, a 1-on-1 feedback session with I.Y.F.F.E, promotion on his social pages and some swag from our partners at PK Sound!
Thanks again to our partners Uprise Music and PK Sound for helping to put this contest together! Check them out below and show some love!
Uprise Music
Uprise Music is an independent electronic music record label based in New York City, powered by Phase One Network.
PK Sound
It is one thing to hear music. It is another to experience it. PK is an owner-operated sound manufacturing, touring, event production and rental company. They pride themselves on being a fresh alternative to the status quo, providing creative and innovative sound systems, A/V, design and stage fabrication, in an ever-evolving market place. PK's brand of audio system is well known for its full bodied and intelligible sound; a result of implementing high efficiency components, new technologies and focusing on the current demands of artists and event attendees. They are a fully integrated production house, staffed with qualified, professional and creative engineers, production experts, designers, technicians and fabricators.
Check this write up of PK's work at festivals like EDC and Shambhala on Thump!
---