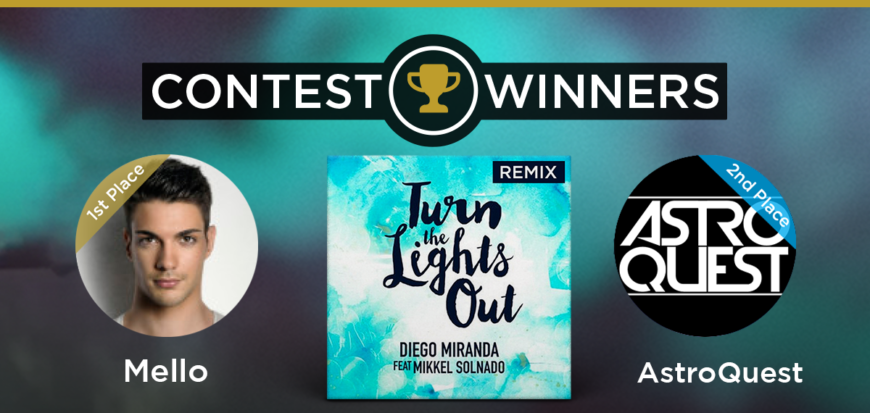 Diego Miranda Remix Contest Winners
Our favourite time around the SKIO HQ is when we get to announce the winners to our latest remix contest! Receiving a list from artists like Diego Miranda and Mikkel Solnado with the names of some producers in our SKIO community makes us proud every time. But this time… you nearly brought tears to our eyes.
It's been amazing to watch (and hear) the quality of your remixes continue to rise with every contest we do, but to have a long-time Ibiza resident and Top100 DJ (currently at #58) let us know that he was blown away by your remixes made us feel like proud parents! In fact, Diego was so impressed by your work, he's decided to reward his top 5 picks with an official release on his label, Less Is More Records.
That's right! Originally, the label had agreed to select only 2 winners for release, but after listening to nearly 120 remixes, Diego and his team are excited to have discovered some serious up-and-coming talent in our community, and have agreed to release an extra 3 remixes! We will of course reward the top 2 picks with prize pack's that include support on Diego's Facebook page (700K+) and a custom made SKIO DJ Backpack, however we will be adding a section for our bonus winners and honourable mentions in this post below. The most exciting this to us about all this… All five remixes selected for official release are in different genres, made by producers in 5 different countries. Way to go guys, you're killing it!
First Place – Mello
Big ups to Mello for taking home first place with his Electro House remix of Turn The Lights Out. Hailing from the town of Aveiro, this talented Portuguese producer made the instrumental from scratch and used only the vocals from the original track, which he pitched down a seminote for added creativity. His energetic mix combines elements of classic EDM with a big room arena style sound. So congrats to Mello for grabbing the top spot in a seriously tough competition!
Second Place – AstroQuest
The Second place spot goes to Detroit-based producer, AstroQuest who submitted one of the most creative remixes we've heard in the contest. His killer remix blends future bass with soulful elements to create a relaxing and refreshing take on the commercial sounding original. Nice work AstroQuest. This was definitely a SKIO-favourite around our office!
---
Bonus Winners
The following remixes have been approved by Diego for official release on Less Is More Records. Remixers will be contacted by our A&R team shortly. Click on the remix link to give it a listen and maybe a ♥ if you're feeling lit.
Echo Steve remix (Calgary, Canada)
Skkna remix (Recife, Brazil)
Discotecture remix (Northgate, Australia)
---
Honourable Mentions
With over 100 killer remixes submitted to the contest, we wanted to show some love to a few more talented producers that deserve an honourable mention. Take a second and listen to some remixes that have been playing in the SKIO Music HQ all week.
Noise Kingdom & Kandle Rush remix
We want to take a minute to thank Diego for making time to listen to every single remix and give his feedback while on a World Tour throughout this entire contest. Diego managed to squeeze in listening sessions while on the road between Seoul and Tokyo to make sure he gave every remix a chance! Thanks for being such a great friend of SKIO and an awesome mentor to our community!
---
On behalf of Diego, Mikkel, Less Is More Records and all of us here at SKIO, thanks again to everyone who participated in the contest! Hope you had fun making your remixes and we can't wait to hear more from you in the future!
Best vibes – The SKIO Music team
---