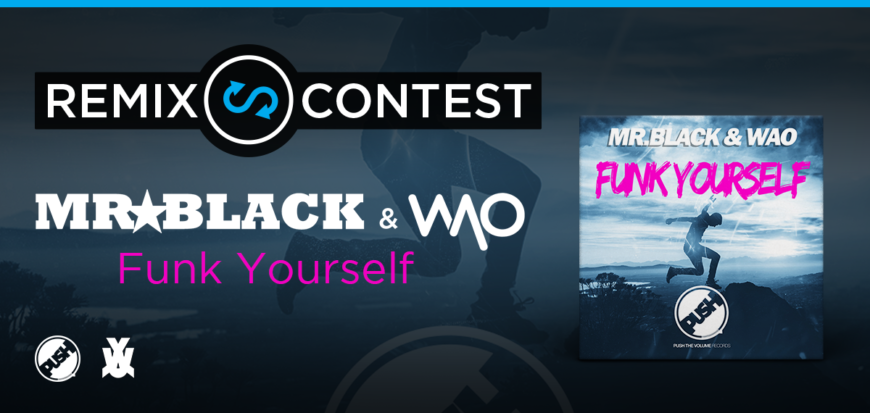 Mr. Black & WAO Remix Contest
We teamed up with a couple of the earliest SKIO Pro's, Mr. Black and WAO, and Push The Volume Records to host a remix contest for their latest collab "Funk Yourself". We're also extremely happy to announce a new partnership with one of the world's leading EDM blogs, We Rave You.
What does this mean for you? Contest entrants will have a chance to be officialy released on Push The Volume Records and the winner will have their track premiered to the massive following of We Rave You!
Go Funk Yourself!
Mr. Black and WAO's recent single "Funk Yourself" has already been supported by top acts such as Hardwell, The Chainsmokers, Fedde Le Grand, FTampa, Michael Woods and more, reaching #18 on Beatport's Electro House Chart in just the first week after release. With high octane energy, heavy synths and a driving beat, Mr. Black and WAO layered vocal snippets into the track to add an engaging auditory component. Fusing the club-setting alongside deep house sounds and distinct big-room elements, these SKIO collaborators have set a high standard for themselves and others in the sub-genres they combines together.
Brazilian producer WAO collaborated with Tel-Aviv based music master Mr. Black after connecting on SKIO Music, and now they have decided to complete the circle and put the track up on our platform for you all to have fun with it! Now is your chance to to grab the stems and take "Funk Yourself" in a new direction! Show these SKIO Pro's and our new partners We Rave You what you can do with their track and you could win an exclusive premiere of your remix on We Rave You, support from both Mr. Black and WAO to over 200,000 fans collectively, and of course a chance to pick up some fresh SKIO swag!
"Mr. Black & WAO – Funk Yourself" received one of it's first plays in Episode 253 of Hardwell On Air, and was also recently picked up by Michael Woods for his 'Diffused Music' monthly podcast. The track was also featured on DJ Mag France before reaching #18 on the Beatport Electro House chart.
More on Mr. Black and WAO
Mr.Black can lay a just claim to having one of the Middle East's best portfolio's of dance music. Having received significant support from names such as Hardwell, R3hab, Ummet Ozcan and Chuckie, Tel Aviv's leading DJ/Producer also delivers classy remixes and sets to his repertoire. Having also had a year to remember in 2015 that pushed him towards the major global spotlight, this year is set to be another elevating step in his already decorated career.
WAO has already collaborated with the likes of leading South American names like FTampa on Hardwell's esteemed Revealed Records, as well as given away a number of classy free downloads. With the Dutchman often featuring the Brazilian's work on his weekly podcast 'Hardwell On Air', the exposure has boosted WAO's profile significantly. And with features also on Dimitri Vegas & Like Mike's compilation of tracks, he's attracting some of the biggest names in the scene early on."
Read more on We Rave You.
---