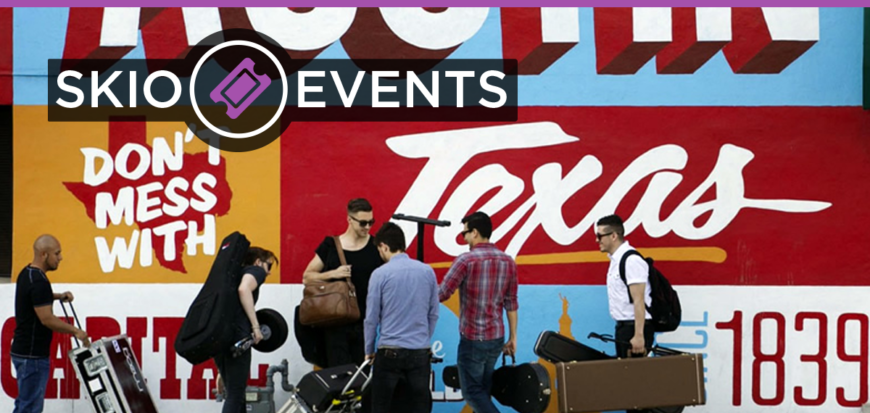 Top 10 SXSW Pro Tips
So, you're going to South by Southwest 2016! Take it from us, SXSW is no joke, it's ten days of magical musical mayhem, titillating interactive exposes, and indulgent film-making for the soul. And yes, there are mad tacos in Austin, wicked-mad tacos.
1. PACK IT
Make a checklist, check it twice. Make sure you've got the right kicks, plenty of cables and backup batteries for your electronics, vitamins, and some kind of camera. You can shoot almost anywhere, anytime, unlike many other events throughout the year.
2. UNPACK IT
You're going to want to have plenty of space on your phone to capture the sights, sounds, fireside chats, and ideas of the week. Nothing is worse than hitting record and seeing the dreaded storage full message because last year's Easter dinner was documented in its entirety when you thought your super-drunk uncle hit a philosophical plateau.
3. EAT IT
Tacos and barbecue. Don't ignore the obviously infamous Polvo's Mexican Restaurant, Amaya's Taco Village, Micklethwait Craft Meats and La Barbecue joints. Cliche? Maybe, but for good reason. Avoid these staples at your own peril.
4. DON'T EAT IT
If you pay for food and drink for any more than a third of your stay in Austin, you a sucka. Plan your days correctly and you will enjoy freebies through the week and beyond. Brands, labels, studios, even countries are battling to purchase your attention at their sponsored venues. Go ahead, indulge in their showcase and event feasts throughout the city, day and night. You paid for that badge, didn't you?
5. GO HERE
If you get a chance to take a seat in the Paramount Theatre, take it. Doesn't matter if the film sucks, or the if the bands are duds, take the opportunity to soak up the history and majesty of this class act.
6. NOT THERE
Dirty Sixth. Actually, do it. Go there, just pretend we tried to tell you not to.
7. GET GREEDY
Overbook your schedule, double and triple book timeslots. Unfortunately you won't always get your first choice, so go in with backup plans.
8. NOT TOO GREEDY
This isn't Bill and Ted's Excellent Adventure, so you're dependant on the laws of space and time. If you have FOMO we feel bad for you son, you booked ninety-nine concerts, but have to switch to just one.
9. POST UP – AT A MUSIC HACKATHON
Want to make a difference in Music Tech? The SXSW Music Hackathon Championship hits again this year, starting at 3:00pm on Tuesday, March 15, and culminating with Final Presentations at 2:00pm on Wednesday, March 16 (open to all SXSW badges).
This year, hackers will collaborate and compete in three hack categories, with each category offering a $3,500 top prize and a load of bragging rights:
Commerce: how is money getting to artists and rights-holders and can blockchain technology help?
Creation: how can musicians use tech to create and perform music in new ways?
Consumer: how can we improve the fan or listener experience?
Check it out and sign up here, who knows, you might just get noticed for your efforts and land a sweet job with our engineering team here at SKIO Music…
10. POST LESS – ENJOY MORE
Go get deep into the music, film and interactive events. Unless it's your job, you shouldn't need to tweet or post the same content as six hundred other pros. Let them do the heavy lifting so you can get back to taking in the artistry and innovation around you.
BONUS PRO TIP Meet up with SKIO Music at SXSW! Reach out to co-founders Omri Amouyal and Darcy Hughes on SXSW Social, or tweet them. They like music, beer, good chats, and big filthy tacos.
Follow Darcy's Schedule Here Twitter: darcyhughes
Follow Omri's Schedule Here Twitter: djomri
---