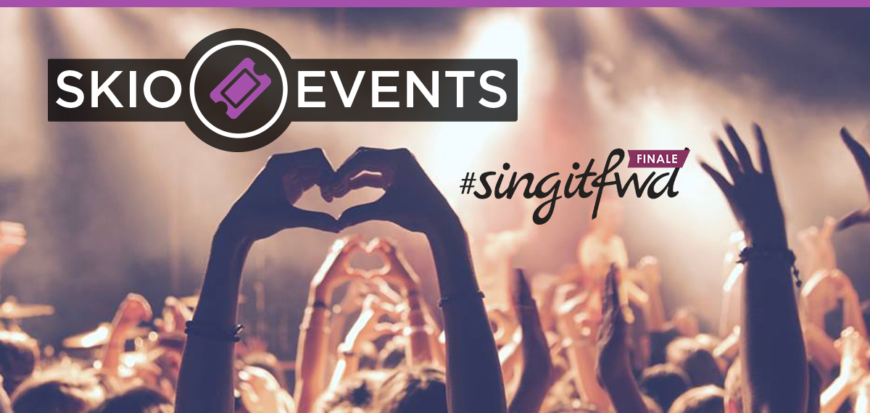 #SingItFwd 2016 and SKIO Music
Music Changes Lives. Pass it On.
SKIO Music has been fortunate enough to partner with some amazing people in our home town of Vancouver to present #SingItFwd 2016. This incredible display of collaboration and creation sees some of the decade's classiest acts take a breather from the studio and lucrative festival grind to slow down and simply create good music with, and for, our city's most deserving youth.
The result is a musical experience for the children of the downtown eastside where top-billed artists get hands on, grab some instruments, teach, learn, laugh, and play to illustrate the significance of youth music education. The culmination of which is a two-night all-ages show at the famous Vogue Theatre…with ALL ticket sales going directly to the cause.
On January 14-15th, a (yet-to-be-announced-top-secret-only-SKIO-knows) star-studded line-up plays set-after-set for the crowd. Each night sees a different line-up this year, being the possible #SingItFwdFinale…but who will it be? Past acts include the likes of Hey Ocean!, K-OS, The Sheepdogs, The Belle Game and Yukon Blonde. Trust us, 2016 will be no exception with more crazy-big acts showing love this year.
"Founded in 2011, our #SingItFwd mission has been to raise awareness around the importance of youth music education while also raising much needed funds for The Saint James Music Academy," said Co-founders, Dave & Ambrosia Vertesi, "their programs support over three hundred kids daily on Vancouver's Downtown East Side,"
"By bringing the best of Canada's music community together with the SJMA students live on stage, you've helped raise $125,000 to date. All proceeds have gone directly to the school for instruments, meals, lessons, and social support programs to help achieve their vision of social change through music."
SKIO Music's own mantra of enabling the Freedom to Create could not be more aligned with the amazing folks at The Saint James Music Academy and #SingItFwd and we're humbled to be a part of the movement.
For 2016, #SingItFwd aims to raise an additional $75,000 with the two night concert series at The Vogue. You can choose either January 14th, January 15th, or both nights. Either way, there will be plenty of amazing surprises and good vibes for all.
Get your tickets here now, and pass it on! Or win a pair and a unique SKIO Music experience in our #MusicChangesLives Contest!
If you'd like to donate directly to the Saint James Music Academy, simply click here.
A livestream for both nights will be hosted by Circle Work.
Music Changes Lives. Pass it On.
---