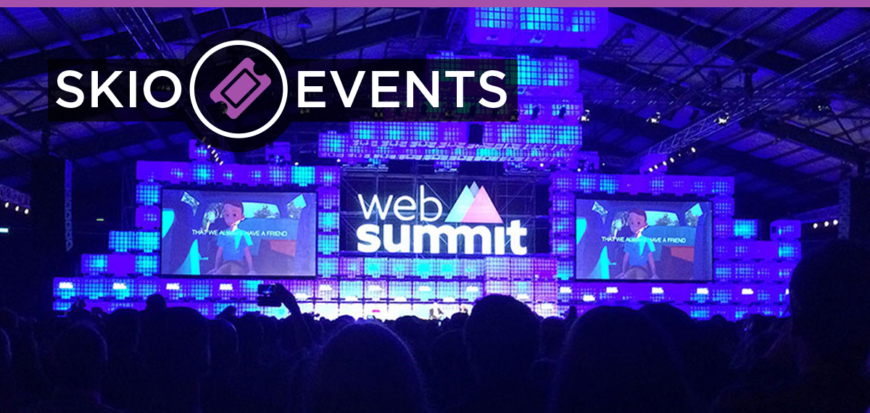 Music Summit 2015: The State of the Industry, Part I
In this three-part series, SKIO Music travels to Dublin, Ireland to get embedded into the intersection of Music and Technology – experiencing the industry's trends and turbulence.
We landed in Dublin for the 2015 Web Summit with two things on our mind: 1) a pint of Guinness and a shot of Jameson with some of the world's savviest entrepreneurs, and 2) the state of the music industry as seen by some of the leading minds representing talent, distributing, and creating music in this new digitally-driven industry.
In a massive conference that saw executives from Tinder, Facebook, Kickstarter, Disney, Google and Instagram confess insider stories in the main room, Music Summit offered a dedicated stage for twenty-five music-industry leaders to dish their own candid hopes and fears. There were awkward moments where the hard questions were confronted; "Why do labels still exist?", "Where does the money go?", or "Is the industry still broken?". Then, just like the intricate Irish skies, beams of sunshine blasted through with enlightened dialogue, which ultimately reaffirmed SKIO's commitment to empower artists with the freedom to create.
Is the Internet Good for the Music Industry?
Some believe the music industry was the canary in the coal mine as coaxed by the likes of Napster and the nature of copyright infringement itself. For better or for worse, the debate fires on, but amongst this group on this day, the overwhelming response was optimistic, at times idealistic.
"The best time to be a music fan is right now, you have so many tools"
— Stuart Dredge, Music Ally
There were some who spoke passionately with monetization as a central focus. "Streaming hasn't been scaled, half the world isn't monetized yet, once you get the infrastructure with data plans then the pie is in the oven, but it's not there yet," grinned Sammy Andrews, Head of Digital at Cooking Vinyl.
On the other hand, insisted Brian Message, Partner at ATC Management, "It's not just about monetization, it's about interaction and engagement."
Then came more pointed opinion regarding the role of streaming and marketing in this new age. "I'm going to diss my friends [Apple Music and Spotify]," said Cliff Chenfield, owner of Razor and Tie, "but please play my songs, I love you – their marketing is not good, it needs to be a utility for families, just like water or Netflix. But the internet is the industry's best friend [because of] influencers, data, and community mobilization."
Ultimately the feeling was that, outside of digital tools for music creation and distribution, the internet's technology focus has been on registering and tracking what content is being consumed and used in violation of copyright law. The emphasis that is placed on policing content and punishing those who engage with it seems a bit misguided and excessive, when coupled with a lack of attention towards enabling rising creators and fans who love content enough to want to engage with it beyond simply listening.
Transparency in the New World
"Transparency has never been as big an issue as it is now..""
— Sammy Andrews, Head of Digital at Cooking Vinyl
"Spotify's 70% comes back to the industry, but nobody knows where it goes," said Mark Mulligan CEO of MIDiA Research.
Mulligan went on to protest that "Google needs to step forward and be more proactive. The fans pay for the tension between big corporations and content owners." Meaning that while the big bands are battling with the big brands over dollars and rights, the fans can only sit back and catch the shrapnel in its many shapes and forms.
Obviously the issue runs very, very deep, Cooking Vinyl's Andrews took the time to dig into more administrative woes, stating "We need to get our shit together and submit the metadata, this carries through to paying our artists. Global rights management has been very lazy due to streaming which [also] hurts discovery." The simple lack of tagging of tracks in the streaming space not only has hindered discovery potential, but flat-out ignored the teams behind the final product.
We have yet to truly understand where the money goes…but it appears technology and MusicTech in particular will close the gap for fair treatment of serious, authentic artists.
---
In Part II of the Music Summit Series we look at collaboration, curation and quality as seen through the panelists' eyes, and where exactly talent management fits into the digital era.
---