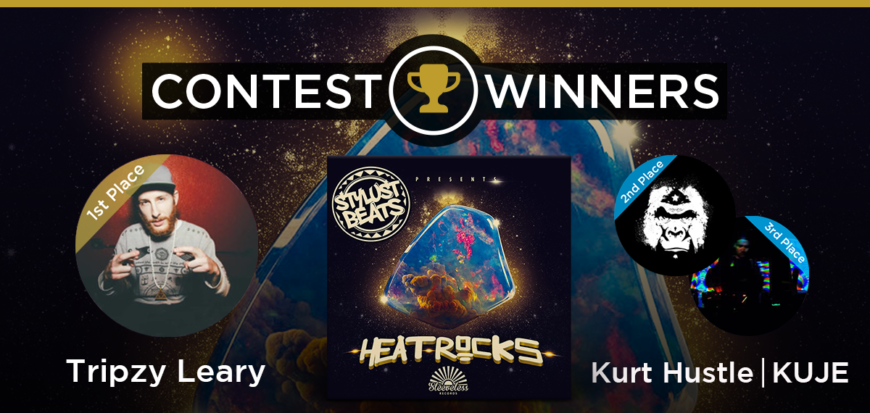 Stylust Beats Remix Contest – Winner Announcement
We're stoked to wrap up another successful remix contest, this time with Stylust Beats for his latest collab with Neon Steve and Lafa Taylor, "Heavy Metal Shit". A huge shout-out also goes to our partners SubPac, Sleeveless Records and ProducerDJ for supporting the contest and providing our wicked prize pack. The dope track and awesome prizes allowed us to attract over 300 contest entrants across 33 countries!
Stylust Beats had a tough time picking a winner but in the end he chose the bass filled G-house remix of 'Heavy Metal Shit' by Tripzy Leary! Congrats to Tripzy Leary who takes home the grand prize including a SubPac S2, Midi Fighter 3D, an official release on Sleeveless Records and much more! Our second-place winner, Kurt Hustle also won a release on Sleeveless for his killer remix, and third place goes to Kuje!
Winner Shoutout From Stylust Beats
Remix Reviews of Contest Winners
1st – Tripzy Leary
It's great to see young producers taking their remixes in new directions, and for Stylust Beats, and all of us involved in the contest, one track stood out above the rest. Tripzy Leary proved he can still make us bounce at 128 bpm like the original does. He captured the trending elements of G house and Bass house in his killer remix, and even better – Tripzy managed to to add his own flare and style without losing the appeal of the original. We can see this track blowing up dancefloors, especially in the West Coast bass music scene.
2nd – Kurt Hustle
Don't be fooled by the uplifting, side-chain melodic intro to this track because when the beat drops, Kurt puts the heavy in this trap-infused 'Heavy Metal Shit' remix. Big ups to Mr. Hustle for making us feel like cruising with the windows down and the system up whenever this track bumps in the SKIO HQ!
3rd – KUJE
Who doesn't love fat bass lines and syncopated trap hats that really snap? It was no surprise to us that Kuje's slowed-down 'Boom Pap' remix made the top three, and with a simple track arrangement yet unique use of the vocal, we're fans of KUJE!
---
Once again, much love to our partners who helped make this remix contest a reality and to all the talented remixers who participated! We really enjoyed going through all the submissions and we look forward to seeing you again in future contest. If you're hungry for another remix contest, enter our Gang Signs contest for their new track 'Mate'.
Happy Remixing!
SKIO Team
---