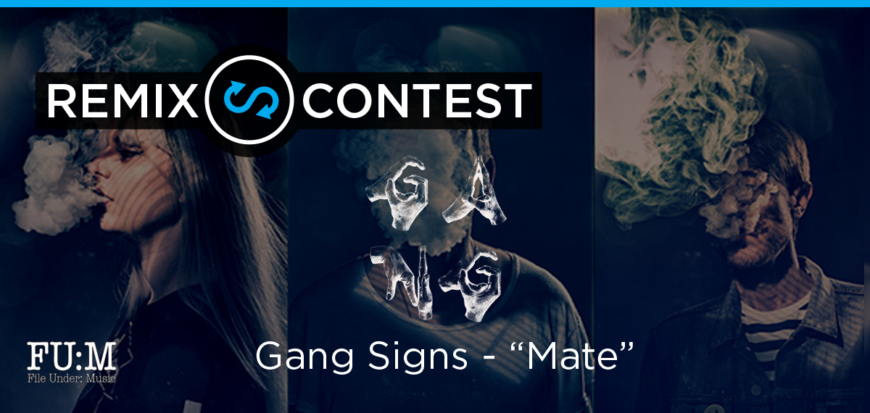 Gang Signs Remix Contest
SKIO is stoked to announce that our latest remix contest is in partnership with Gang Signs, File Under: Music and Hoax Artist Management. Gang Signs has just released their new LP, Geist, and we're excited to host a contest for 'Mate', our favourite track off the new album. Geist is the result of a collaboration between three diverse and talented musicians: Peter Ricq (frontman/vocals), Adam Fink (drummer) and Matea Sarenac (keyboard/vocalist). Some of you may know Ricq as one half of the Vancouver based Indie-Electro duo Humans, with Robbie Slade. Ricq has taken the fusion of experimental-electro and indie-pop that Humans were known for and readapted it into a more dream-pop focused sound with Gang Signs. I would describe the tracks off their new Geist LP as hauntingly beautiful with surprising dancefloor appeal.
As Gang Signs tour North America, the band and label are looking for a creative remix of Mate to help promote their album and reach new audiences. Submissions will be accepted from October 19th to November 30th, with the winner announced on December 11th. Our contest partnerships have put together an awesome prize pack featuring an official release on the Gang Signs remixes EP with File Under: Music Recordings. Other prizes include a meet and greet with Gang Signs, One full year of free remix deals on SKIO Music and much more!
Grand Prize
An official release on the Gang Signs remixes EP with File Under Music Recordings
A meet and greet or Skype call with Gang Signs
One full year of free remix deals on SKIO Music
An exclusive premiere of the remix on the SKIO Blog
A custom video shout out from Gang Signs
Gang Signs T-Shirt
Label Merchandise
'Mate' is a minimalist track with rich textures and high remix potential. Check out the music video which brings the track to life with beautiful, dark imagery. The sampled hand claps drive the track forward as layers of vocals ebb and flow around them. The juxtaposition between the male and female vocals enhance one another as Ricq's deep, sombre voice provides a foundation for Matea's ethereal melodies. This kind of minimalist dream-pop track lends itself well to extensive reinterpretation when being remixed into various genres. As an example, we've thrown in the Heroshe remix of 'Mate' below to vibe on. We'll leave it up to you as to whether you mould 'Mate' into something deeper and darker, lift it up into a dancefloor hit or surprise us with something completely different! We're looking forward to seeing what you come up with!
Happy remixing!
SKIO Team
---