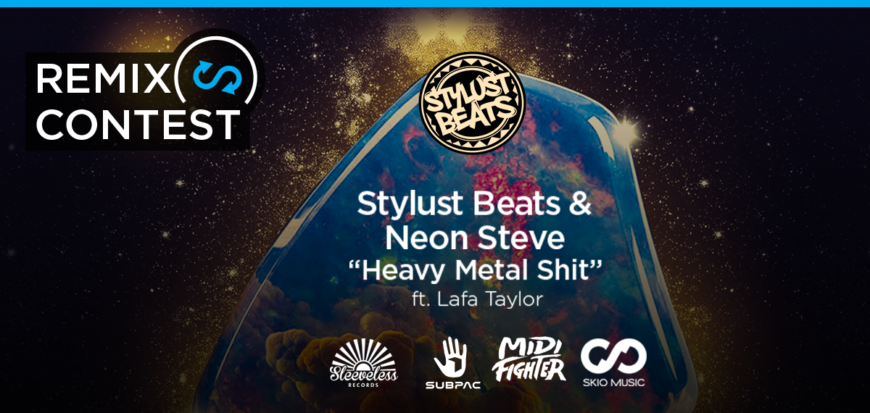 Stylust Beats Remix Contest – 'Heavy Metal Shit'
Local bass music legend and friend of SKIO, Stylust Beats, has just released his new full length album 'HEATROCKS' and it is awesome! With a new track premiering on a different music blog everyday during the '12 Days of HEATROCKS', we've partnered with SubPac, Stylust Beats and Sleeveless Records to make this Day 3 release of "Heavy Metal Shit" extra special by hosting a remix contest for you guys! But more on that below…
This massive tune is the result of a collaboration with fellow Canadian producer/DJ, Neon Steve, and the talented hip hop vocalists Lafa Taylor. Lafa, who's quickly becoming a fan-favourite after various collabs with Bassnectar, brings the right amount of urban flare to take this track from a bass-heavy melodic instrumental to a full-fledged dancefloor destroyer. Here's what Stylust Beats had to say about making this track:
"This Collab with Neon Steve came out super naturally. One of the final tunes made for the album, I'm not sure how to categorize this as other than just pure party music."
"This has been a staple in my sets as of late and always gets a reaction from the crowd."
"The vocalist is Lafa Taylor who is someone I've wanted to work with for a while now. I consider this tune as the follow up to "Sleeveless Jumpoff", a track I made with Wick-It the Instigator from my previous "R.Y.F.S.O" Album. I was gonna name it Sleeveless Jumpoff part 2 but Heavy Metal Shit just felt right haha"
The entire HEATROCKS album packs a serious punch, but we were extremely happy to be the ones to premiere "Heavy Metal Shit" to the world. So we teamed up with SubPac, Sleeveless Records and Stylust Beats himself to give you guys a chance to get your hands on the stems and get creative with your remix for a chance to win some killer prizes, including an official release on the HEATROCKS remixes EP, a SubPac S2 tactile bass system, free remix deals on SKIO Music and some fresh swag!
WE'RE LOOKING FORWARD TO LISTENING TO YOUR 'HEAVY METAL SHIT' REMIXES!
---